Happy December People,
We wish you for upcoming Christmas & New year eve do send us your Happy moment's pics on @HelloPeenak
It's time to start thinking ahead to your December 2019 content calendar. Year-end is always filled with fun. And lots of business transactions along with the Festivals for any entity. For an Online Store, Publishing House, Business Organization or an NGO. Conversation with your followers on social Channel is a key part of Online Strategy.
For the past few years, we are using the Calendar Template derived from Hubspot Templates. We customized it with Indian flavour based on our needs. From onward you can access it in our Free Resource section.
Here is the India Specific Content Calendar for your Content Strategy. Following is the List of Few Occasions in Decembers 2019.
World AIDS Day (December 1, 2019)
Martyrdom of Sri Guru Teg Bahadur(Punjab) (December 1, 2019)
Indigenous faith day(Arunachal Pradesh) (December 1, 2019)
State Inauguration Day (Nagaland) (December 1, 2019)
Asom Divas(Assam)(December 2, 2019)
Advocate's Day(December 3, 2019)
Indian Navy Day (December 4, 2019)
World Soil Day (December 5, 2019)
International Civil Aviation Day (December 7, 2019)
International Children's Day(December 8, 2019)
Human Rights Day(December 10, 2019)
Nobel Prize Day(December 10, 2019)
World Choral Day(December 11, 2019)
And More in Document, Get your copy below…
Are you new to content Calendar or Content Strategy?
Content Calendar is an essential tool for Digital Marketers. Content Calendar helps you to plan the strategy ahead of time. This Social Media Content Calendar will help you to make social media strategies. It makes easier to coordinate campaigns and keep your audience engaged.
For your inspiration, this is the example of Content Calendar.
National Geographic 2020 Calendar – Download NatGeo's 2020 Editorial Calendar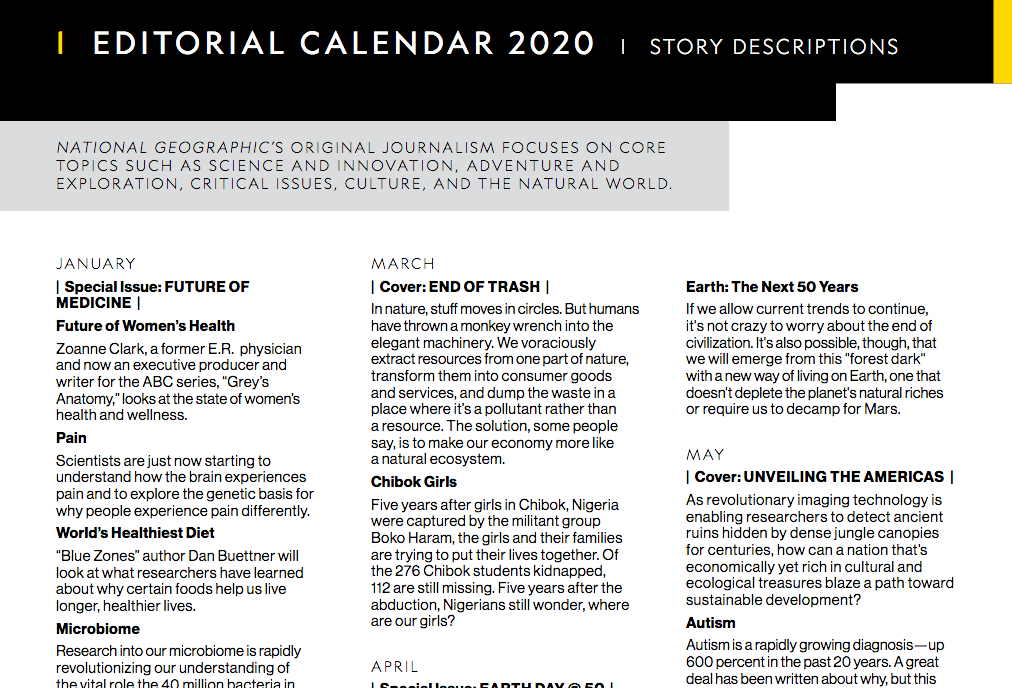 For more information about Content Strategy Calendar, Click here